New Years Eve Dinners On River Cruise Boats in Paris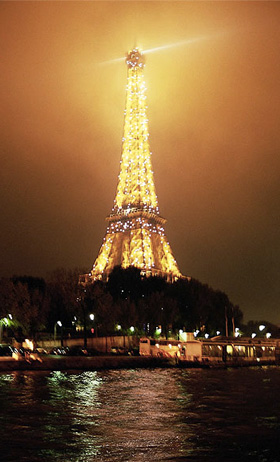 Sit Down Nye Dinners On River Cruise Boats in Paris
We do not recommend the river cruise New Year dinners offered by the many cruise boat companies of the seine. Often, these cruise boats are not used to holding dinner parties aboard, and do not have an infrastructure adapted to hosting the kind of dinner or event that you would hope and expect to experience on this special evening. Often customers are promised the world, magnificent cruise, sumptuous dinner, fireworks at the Eiffel Tower (fireworks at Eiffel Tower do not happen on New Years Eve, only on the traditional 14th of July French National celebrations), and they are unfortunately often very disappointed.
A few rare companies specialize and offer New Years Eve cruises that meet the expected standards, but tickets with these companies do not come cheap. Decent New Years Eve river cruises generally cost between 250-300€ per person. Be wary of cheaper offers, as these events will be of an inferior quality and you risk disappointment on the night.
Every year we hear stories of people who have been disappointed after trying out other companies river cruises for New Years Eve. Recurrent problems on other boat cruises are :
- THE COLD
Often boats do not have the proper heating equipments to be travelling the river at night in the middle of winter. No one wants to spend New Years Eve shivering to death.
- TOILET FACILITIES
Often only adapted to smaller groups, the 1 or 2 toilets generally available on the Paris riverboats are not sufficient for the 300 or 400 people that can be attending New Years Eve on the smaller boats.
- LOW QUALITY MEALS
Only a few river cruise companies work with reputed caterers or have proper kitchen installations in order to provide the exceptional dining experience expected for a New Years Eve. Others unfortunately serve meals that are far from freshly prepared.
- LACK OF CLOAKROOM SERVICE
The small size of most riverboats means that cloakrooms are non existant or quickly full. You could end up carrying around heavy coats or bags all night long, unable to have hands free to enjoy the party.
IT IS POSSIBLE TO SPEND A MAGICAL NEW YEARS EVE ON A CRUISE BOAT, PROVIDED YOU ARE WILLING TO PAY A HEFTY PRICE FOR THE PLEASURE. If so, the following companies are among the more reputable :
- Les Yachts de Paris
- Les Bateaux de Paris
An original option is the « Nightclub / Disco Boat » if a party on the seine is what you are looking for. LE BATEAU LE QUAI does not navigate, so there is no cruise, but instead a beautiful setting with view over the Eiffel Tower, Place de Concorde and Musée d'Orsay. This boat organizes large events throughout the year and is fully equipped to host the perfect New Years Eve 2020.
Info and bookings here.
Find the events for the New Year's Eve in Paris
Find in the
23

events for this New Year's Eve