New Year's Eve Rooftop Debonair (Ex Nuba) Paris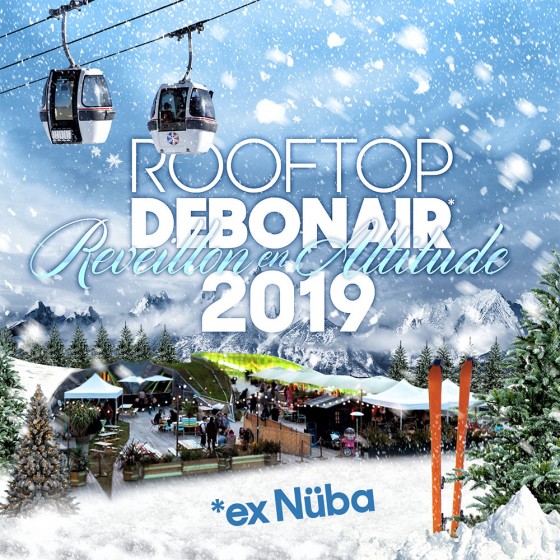 DISCOVER !
ROOFTOP DEBONAIR (Ex Nuba) : An authentic high altitude mountain ski station.. in the heart of Paris
See in 2019 on the rooftop of the Cité de la Mode & du Design
Monday December 31st 2018, from 10pm to 6am
Indoor and Outdoor Party – Over 1000 PEOPLE are expected to attend this EXCEPTIONAL EVENT
Want to see in the New Year in style this year ?
10... 9... 8... 7... 6... 5... 4... 3... 2... 1... 0 : Let's SHAKE PARIS ! Jump head first into 2019 with 8 hours of Non-Stop party on the biggest rooftop in Paris (heated throughout). Tonight slip into your ski suit, pull on your moon boots, wrap up in furs, snow hats, and mittens… We have transformed the NUBA into a mountain ski slope winter wonderland for an exceptional 2019 New Year's Eve !

INDOOR DANCEFLOOR + DANCEFLOOR on the ROOFTOP
The "Debonair" comprises 1 large indoor Dancefloor (heated) and 1 outdoor Dancefloor (1000m2 partly covered and heated) on the rooftop of the Cité de la Mode & du Design (Paris Fashion and Design center) with an incredible and unbeatable view of the Seine.
Your New Year's Eve
- INDOOR & OUTDOOR PARTY : Cité de la Mode & du Design (Paris Fashion and Design Center)
- Huge party with over 1000 lucky partygoers
- 2 LARGE DANCEFLOORS with latest generation Sound System
- 1000M2 OUTDOOR TERASSE to enjoy some fresh air
- SNOW BLIZZARD on the outdoor Dancefloor
/// DRINKS ///
- Included in your entry ticket, 3 or 10 drink tokens.
The bar offers a wide selection of alcoholic and non-alcoholic beverages. All alcohols are high quality brand name alcohols (vodka, whisky, rum, gin, tequila, beer, and soft drinks and mixers). Our friendly and professional bar hostesses provide rapid service with a smile.
- 2 Giant Bars open all night
- 100€ VIP prepaid bottle option. Tables will be allocated in priority to VIP BOTTLE OPTION customers. If you require a table, click on the " VIP PREPAID INTERNET BOTTLE " option when you buy entry tickets to enjoy the prepaid internet bottle booking offer and gain access to tables at the event. (The VIP bottle option is based on 4 people sharing a bottle, if your group exceeds this number, you will need to purchase more than one VIP BOTTLE OPTION to secure a table)
/// MUSIC ///
Leading us on the slopes, our ski instructor and master DJ, « KMELONE » (Resident of Cab, Queen, Concorde), to glide us down the twists and turns of the black slopes into 2019 ! DJ KMELONE has carefully prepared a selection of Electro, HipHop, House, Nu-Disco (a little bit of everything)… A blizzard of the best sounds from 2010-2018 for a truly unforgettable New Year's Eve.
Over 1000 lucky partygoers are expected for a High Altitude New Year's Eve ! Jet off to Paris' first ski station ! Go wild with your outfit; fun and fancy dress is more than welcome ;-) Meet you at the bottom of the slopes !
IMPORTANT INFORMATION
- The Club is entirely heated // The ROOFTOP is partially heated (Rest assured you will not be cold at the venue)
- The sale of tickets on the door is not guaranteed // It is highly recommended that you purchase your entry tickets in advance here on the website to avoid disappointment on the night.
FOR MORE INFORMATION
If you have any further questions, please consult the « FREQUENTLY ASKED QUESTIONS » page above, or contact us via e-mail or via the info hotline (contact details at the top of this page).
More
TICKETS
10 DRINK FORMULA
Party + 10 Drink Tokens
In advance or €50 without drink on the door
Priority access from 10pm
BUY

ONLINE
In Agency
VIP PREPAID INTERNET BOTTLE
1 bottle of alcohol and priority access to tables
!! Does not include entry to the event !!
BUY

ONLINE
In Agency
Buy Tickets In agency
The office is open from December 30th onwards between the hours of 12.30pm and 8pm.
Ticket office address: Les Etoiles
61 rue du Chateau d'Eau - 75010 Paris
Metro station Chateau D'Eau (Line 4) or Strasbourg St-Denis (Lines 4 - 8 - 9)
MAPS