New Year's Eve Nodd Rooftop Paris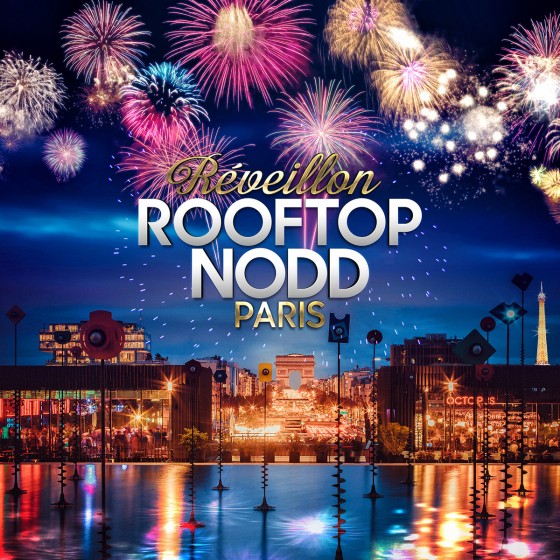 2 Espl. du Général de Gaulle Paris La Defense 92400
Metro Esplanade de la Defense-Metro (Ligne 1)
DISCOVER !
ROOFTOP NODD NEW YEAR'S EVE PARTY
View on the Fireworks of the Arc de Triomphe and the Eiffel Tower
1500 people // 2 Dancefloors // 2 heated giant terraces
Prices : From 49€ (Includes entry to the event + 3 to 10 drink tokens)
Here at Reveillon Paris we aim to offer the most exceptional 2020 New Year's Eve events, for you and your group of friends. Groups of girls seeing in the New Year with their besties, managers leaving the tie and the office behind on this magical party night, artists leaving their woes behind, students partying the night away, travelers looking to discover Paris night life, fashionistas, athletes shaking off that strict regime... The new Rooftop "NODD PARIS" brings out the best in the game for an extraordinary New Year's Eve in the axis of the Arc de Triomphe (with a view of the fireworks display at midnight) and the Grande Arche de La Défense.
• THE TERRACES :
360° view with on one side the axis of the Arc de Triomphe (and its fireworks display at midnight), on the other side the Skyline de la Défense and the Grande Arche, and a privileged view of the Eiffel Tower which will sparkle every hour!
• THE CLUB :
5m high ceilings, and a capacity of over 1500 people. New incredible Spot opened in 2019 in a Warehouse style with breathtaking sound & light equipment. As for the music, DJ KMELONE (Cab, Queen, Concorde) will be setting the dancefloor alight with the best sounds (House, Hip-Hop, Pop, Electro, 80-90s... Let's shake up Paris!)
• 2 LARGE BARS :
Included in your entry ticket, 3 to 10 drink tokens. The bar offers a wide selection of alcoholic and non-alcoholic beverages. All alcohols are high quality brand name alcohols (vodka, whisky, rum, gin, tequila, beer, and soft drinks and mixers). Our friendly and professional staff provide rapid service with a smile.
• AN EXPLOSION OF FESTIVE STREAMERS AND PARTY GOODIES :
Streamers, Festive party goodies, a great big colorful party fun item giveaway from midnight onwards to make the night even more festive!
• VIP BOTTLE OPTION (150€) :
Tables will be allocated in priority to VIP BOTTLE OPTION customers. If you require a table, click on the <<VIP PREPAID INTERNET BOTTLE>> option to enjoy the prepaid internet bottle booking offer and gain access to tables at the event. (The VIP bottle option is based on 4 people sharing a bottle, if your group exceeds this number, you will need to purchase more than one VIP BOTTLE OPTION to secure a table)
FOR MORE INFORMATION :
If you have any further questions, please consult the << FREQUENTLY ASKED QUESTIONS >> page, or contact us via e-mail (contact address at the top of this page).
More
Buy Tickets In agency
The office is open from December 30th onwards between the hours of 12.30pm and 8pm.
Ticket office address: Les Etoiles
61 rue du Chateau d'Eau - 75010 Paris
Metro station Chateau D'Eau (Line 4) or Strasbourg St-Denis (Lines 4 - 8 - 9)
MAPS