New Year's Eve Faust Paris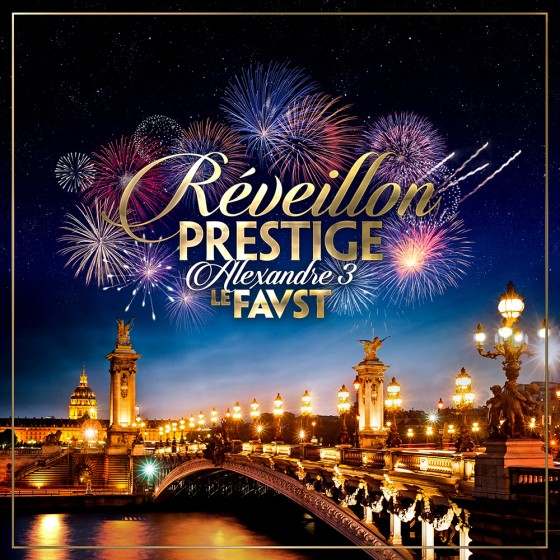 DISCOVER !
PRESTIGE NEW YEARS EVE AT ALEXANDRE 3 BRIDGE (Faust Paris)
Tuesday 31st December 2019 from 10pm to 6am
1200 lucky partygoers for an unforgettable New Year's Eve party
New Years Eve just below the Alexandre III bridge just 300m from the famous Champs-Elysées
An exceptional occasion, an exceptional venue ! Le Faust is both a monumental venue and one of Paris' best kept secrets. Located in the heart of the historical centre of Paris below the Alexandre 3 bridge (architectural masterpiece famous around the world and listed as a UNESCO World Heritage site), this venue exceptionally opens it's doors this December 31st for our lucky guests to enjoy a New Year's Eve party like no other. The venue attracts the most famous international DJs to headline here all year long. Situated just next to the Eiffel Tower, the famous Invalides Dome, the banks of the Seine river, the Concorde square and its famous obelisk... A picture postcard New Year's Eve just 300m from the Champs-Elysées !
• THE CLUB : One of the most beautiful nightclubs in Paris with exceptional state of the art sound and light installations. 1500M2 of Dancefloor, a large heated outdoor terrace, 3 large bars and a calm and cosy lounge style area to chill out and relax.
• THE DJs : 30 years of Club Classics (Electro, Pop, Hiphop, RnB, Disco)
Joachim Labrande (Resident Dj Bus Palladium / Jean Louis La Nuit) & Friends : The best DJs in Paris have prepared a special mix just for our guests, a mix that will make all of Paris shake ! : Welcome to 2020.
• 3 LARGE BARS : Your entry ticket price includes between 3 and 10 DRINK TOKENS, depending on the entry package you choose to purchase. We offer a vast selection of alcoholic and non alcoholic beverages. All our alcohols are high quality brands (vodka, whisky, rum, gin, tequila, beer, soft drinks...). Our friendly bar staff will provide rapid service with a smile.
• FIREWORKS AND PARTY GOODIES AND STREAMERS : Confettis, streamers, etc,… Party goodies giveaways all night long will ensure a festival of colors and a vibrant party atmosphere to provide our guests with an exceptional night of celebration. You can also watch the firework display on the Champs-Elysées before attending the party and with your pre-purchased entry ticket come to the party after midnight once the firework display has finished.
• INTERNET PRESALE PROMOTIONAL OFFER ON BOTTLES OF ALCOHOL at 150€
(instead of 200€ price at the venue) : VIP tables are allocated in priority to guests having purchased bottles. Simply add « Bottle Option » to your basket when purchasing your entry tickets to take advantage of the internet presale promotional price for a bottle of alcohol of your choice and a table for 4 people. (Bottle option does not include entry to the venue, entry tickets must also be purchased for each guest).
FOR MORE INFORMATION
If you have any further questions, please consult the « FREQUENTLY ASKED QUESTIONS » page, or contact us via e- mail or on the information hotline (contact address and telephone number at the top of this page).
More
TICKETS
3 DRINK FORMULA
Party + 3 Drink Tokens + Breakfast
In advance or €50 without drink on the door
Priority access from 10pm
BUY

ONLINE
BUY

ONLINE
In Agency
10 DRINK FORMULA
Party + 10 Drink Tokens + Breakfast
In advance or €50 without drink on the door
Priority access from 10pm
BUY

ONLINE
In Agency
VIP PREPAID INTERNET BOTTLE
1 bottle of alcohol and priority access to tables
Save 50€ (200€ at the venue)
!! Does not include entry to the event !!
BUY

ONLINE
In Agency
Buy Tickets In agency
The office is open from December 30th onwards between the hours of 12.30pm and 8pm.
Ticket office address: "Les Etoiles"
61 rue du Chateau d'Eau - 75010 Paris
Metro station Chateau D'Eau (Line 4) or Strasbourg St-Denis (Lines 4 - 8 - 9)
MAPS